Tina Anderson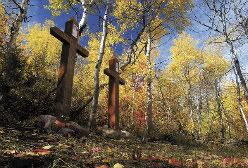 Missing Since:
July 23, 1978 from Pocatello, Idaho
Age When Disappeared:
12 years old
Remains Found:
October 1981
Abductor:
Never found.

It was at Pocatello's traditional Pioneer Day celebration on July 23, 1978, at this eastern Idaho city's Alameda Park, that 12-year-old Tina Anderson and 15-year-old Patricia Campbell went missing.

Police listed the girls as runaways despite evidence to the contrary. They hadn't taken any clothes from their homes and had no history of running away. Also, Patricia's $300 savings account remained untouched, and Tina's piggy bank was still full.

Their remains were found in a remote Oneida County gorge in October 1981. Tina's skull had a small hole on the right side consistent with a small-caliber bullet.

In 1986, the partial skull of another, still unidentified teenage girl was recovered a few hundred feet away in the gorge. Police do not believe she was from the area. A forensic pathologist determined she was African American and no girls matching that description were listed as missing from Southeast Idaho.

Some detectives have indicated the crimes may have been committed by a serial killer. Pocatello Police are assisting with a task force investigating the murders of Patricia Campbell and Tina Anderson because the girls' remains were found outside of their jurisdiction. The effort is being led by the Oneida County Sheriff's Office.